Team DOUVRIS comprises DOUVRIS karate Ottawa students whose focus and dedication propels them to the next level. As part of our competitive team, these students make an extra commitment to training and travel. Team DOUVRIS is coached by Master Sensei John and Peter DOUVRIS, who also coach the national karate team.
As part of Team DOUVRIS, members have the opportunity to compete in regional, national, and world karate events. The love of karate motivates team members to train to the best of their abilities, to commit to their championship goals, and to become valued members of the karate community. Our highly effective training and mentorship program provides Team DOUVRIS with the skills to successfully compete and win medals.
Contact us to learn more about what it takes to compete with Team DOUVRIS.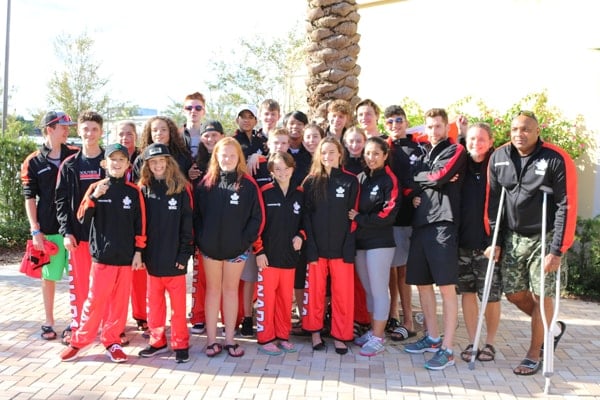 Watch highlights of the DOUVRIS team at the WKC Nationals
Current and Past Team Douvris Members
Wow Team Douvris!! We did amazingly well!! We are so proud of our Team DOUVRIS members. Each year, these team members work hard to qualify for the national team and then prepare for the World Karate & Kickboxing Commission (WKC) World Championships.
TOTAL GOLD: 19
TOTAL SILVER: 16
TOTAL BRONZE: 17
Nico Campagna:
Point Sparring – GOLD
Light Contact – GOLD
Team Fighting – GOLD
Keagan Goosen:
Traditional Weapons – BRONZE
Team Fighting – BRONZE
Isaiah Lang:
Point Sparring – SILVER
Team Sparring – SILVER
Dante Lorusso:
Point Sparring – SILVER
Team Fighting – SILVER
Michele Lorusso:
Point Sparring – GOLD
Team Fighting – BRONZE
Hannah Morrier:
Point Fighting – SILVER
Team Fighting – SILVER
Zoe Houle:
Point Sparring - BRONZE
Lexi Parsons:
Team Fighting – GOLD
Team Kata – BRONZE
David Patenaude:
Point Sparring – SILVER
Team Sparring – SILVER
Malik Thomas:
Classical Forms – SILVER
Traditional Forms – BRONZE
Robbie Lavoie:
Point Sparring – GOLD
Team Fighting – GOLD
Cody Diesbourg:
Point Sparring – BRONZE
Team Sparring – GOLD
Team Forms – SILVER
Subhadra Shrestha:
Overall Forms Grand Champion
Traditional Forms – GOLD
Classical Forms – GOLD
Team Forms – SILVER
Maeve McColgan:
Point Sparring – GOLD
Team Sparring – GOLD
Team Forms – BRONZE
Kim Hopkins:
Team Forms – BRONZE
Sierra Vergette:
Point Sparring – GOLD
Team Sparring – GOLD
Hardstyle Forms – BRONZE
Jayce Vergette:
Point Sparring – GOLD
Ben Clarke:
Point Sparring – GOLD
Team Fighting – GOLD
Olivia Vaughan:
Point Sparring – BRONZE
Vuk Bilcar:
Classical Forms – GOLD
Team Fighting – BRONZE
Petar Bilcar:
Team Fighting – SILVER
Kristian Sakamoto:
Hardstyle
Hana Sakamoto:
Point Sparring
Teo LeBris:
Point Sparring
Team Sparring
Debbie Lawes:
Point Sparring: BRONZE
Thomas Vakulik:
Open/Musical Weapons: SILVER
Creative Weapons: 5th place
David Allard:
Team Kata: 4th place
Amanda Allard:
Team Kata: 4th place
Traditional Forms: 4th place
Barry Dworkin:
Creative Weapons: 4th place
Hannah Noble:
Classical Forms – GOLD
Hardstyle Forms - BRONZE
Laura Morin:
Traditional Forms – SILVER
Remy Collar:
Point Sparring – BRONZE
Team Sparring – SILVER
Ketana Vandenheem:
Point Sparring – BRONZE
Velyian Thomson:
Point Sparring – SILVER
Team Sparring – BRONZE